To czego nie możesz pominąć, będąc we Wrocławiu:

Things you can't miss while being in Wrocław:
1.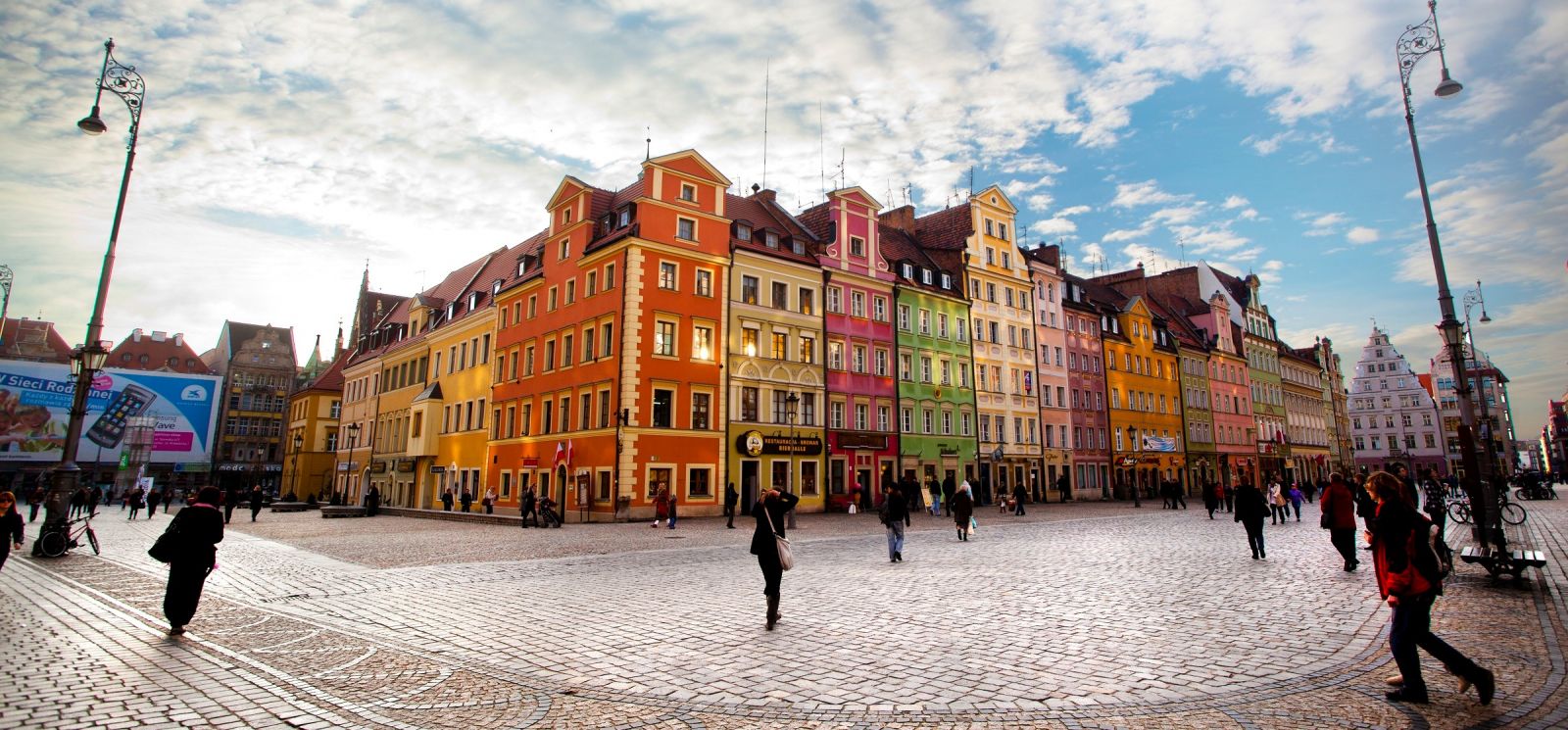 Rynek – serce miasta. Jest to jeden z największych rynków staromiejskich Europy. Miejsce organizacji wielu festiwali, wystaw, koncertów. To właśnie tutaj mieściła się oficjalna Strefa Kibica, w której fani piłki gromadzili się na transmisje meczów. Dzisiaj to miejsce przyciąga także lubiących dobrze zjeść, potańczyć w licznych dyskotekach, wypić kawę w ogródku i kupić kwiaty na przyległym Placu Solnym. A wszystko to nawet w środku nocy!
Market Square – the heart of the city. One of the oldest market squares in Europe. Place where many festivals, exhibitions and concerts are organized. During EURO 2012 it served as the Fan Zone where supporters watched the matches on giant screens. On daily basis one can always eat something here at one of the restaurants, dance at disco-clubs, drink a cup of coffee at terraces or buy flowers at the nearby Solny Square.
---
2.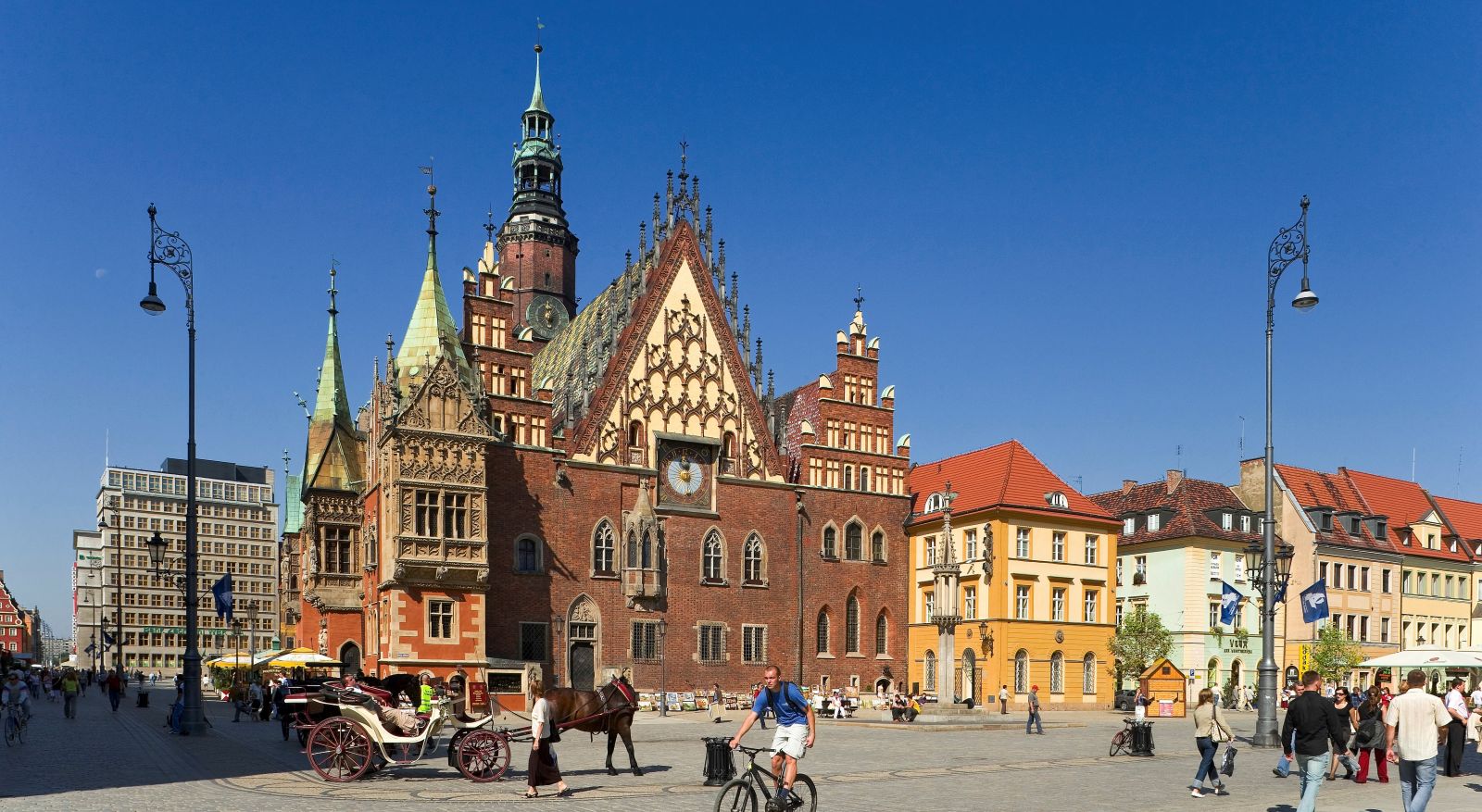 Ratusz – perła architektury gotyckiej i renesansowej. Posadowiony w Rynku, widoczny z każdej jego strony. W piwnicach Ratusza znajduje się Piwnica Świdnicka, jedna z najstarszych restauracji w Europie.
Town Hall – the pearl of gothic and renaissance architecture. Located at the Market Square is well visible from all its corners. At basement of the Town Hall, there is a restaurant called Piwnica Świdnicka, one of the oldest in Europe.
---
3.

Dzielnica Czterech Wyznań – miejsce, gdzie w bliskim sąsiedztwie znajdują się cztery świątynie różnych wyznań: katedra prawosławna, kościół rzymskokatolicki, kościół ewangelicko-augsburski i synagoga . To dlatego o Wrocławiu mówi się, że to miasto wielu spotkań.
District of Four Religions – the area, where in close neighborhood, there are four temples of different religions: orthodox cathedral, catholic church, evangelical-Augsburg's church and the synagogue. That is one of the reasons, why people call Wrocław as the meeting place.
---
4.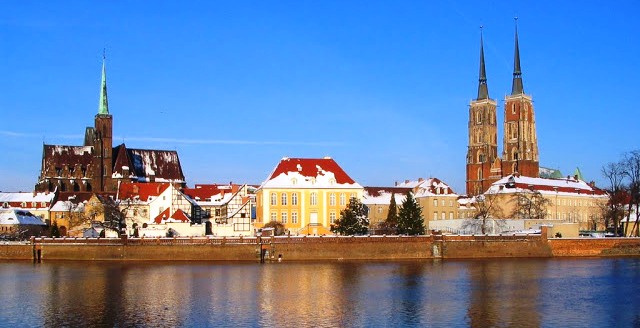 Ostrów Tumski – wyspa, najstarsza część Wrocławia z gotycką katedrą św. Jana Chrzciciela. Popularne miejsce romantycznych spacerów i chwili odpoczynku od miejskiego zgiełku.
Ostrów Tumski – an island, the oldest part of Wrocław with the gothic cathedral of St. John the Baptist. Popular site of romantic walks and relaxation from the city's rush.
---
5.

Panorama Racławicka – monumentalne malowidło o wymiarach 15 x 114 metrów (to powierzchnia, na której można zgromadzić 3525 ekranów 42-calowych!) Aby wyeksponować obraz przedstawiający ważną dla Polaków bitwę pod Racławicami z XVIII wieku, zbudowano w tym celu specjalne okrągłe muzeum.
Panorama Racławicka – monumental painting of 15 x 114 meters size (surface where one can fit 3525 screens of 42-inches!) To exhibit the picture, presenting important for Poles the battle of Racławice from the XVIII century, the special round museum was constructed.
---
6.

Ogród Botaniczny – jeden z najstarszych w Europie, do którego przylega posiadające fascynującą kolekcję fauny i flory Muzeum Przyrodnicze, które jest najstarsze i największe w Polsce. Popularne miejsce odpoczynku wśród znajomej i nieco bardziej egzotycznej zieleni.
Botanical Garden – one of the oldest in Europe, with nearby Museum of Nature which possess fascinating collection of fauna and flora. Popular place to rest among both familiar and exotic nature.
---
7.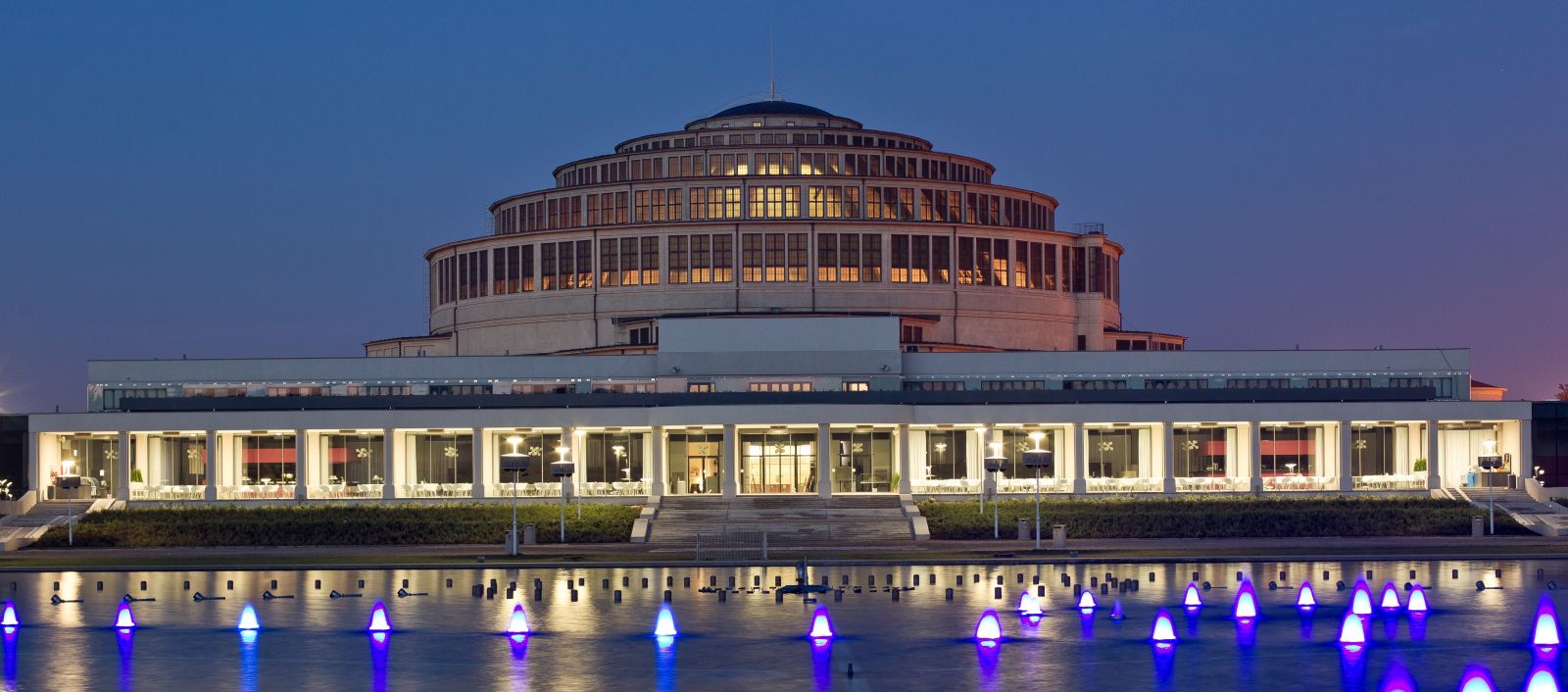 Hala Stulecia – wybitne dzieło architektury i budownictwa z pocz. XX w. Została niedawno odnowiona i powiększona o centrum kongresowe, zgodnie z planami jej twórcy oraz wpisana na Listę Światowego Dziedzictwa UNESCO. Pełni rolę hali wystawienniczej, sportowej i koncertowej.
Centennial Hall – outstanding art of architecture and construction from the beginnings of XX century. Recently renovated and enlarged with the congress center according to its originator's plans. Listed as a UNESCO World Heritage Site, it functions as hall for exhibitions, concerts and sport events.
---
8.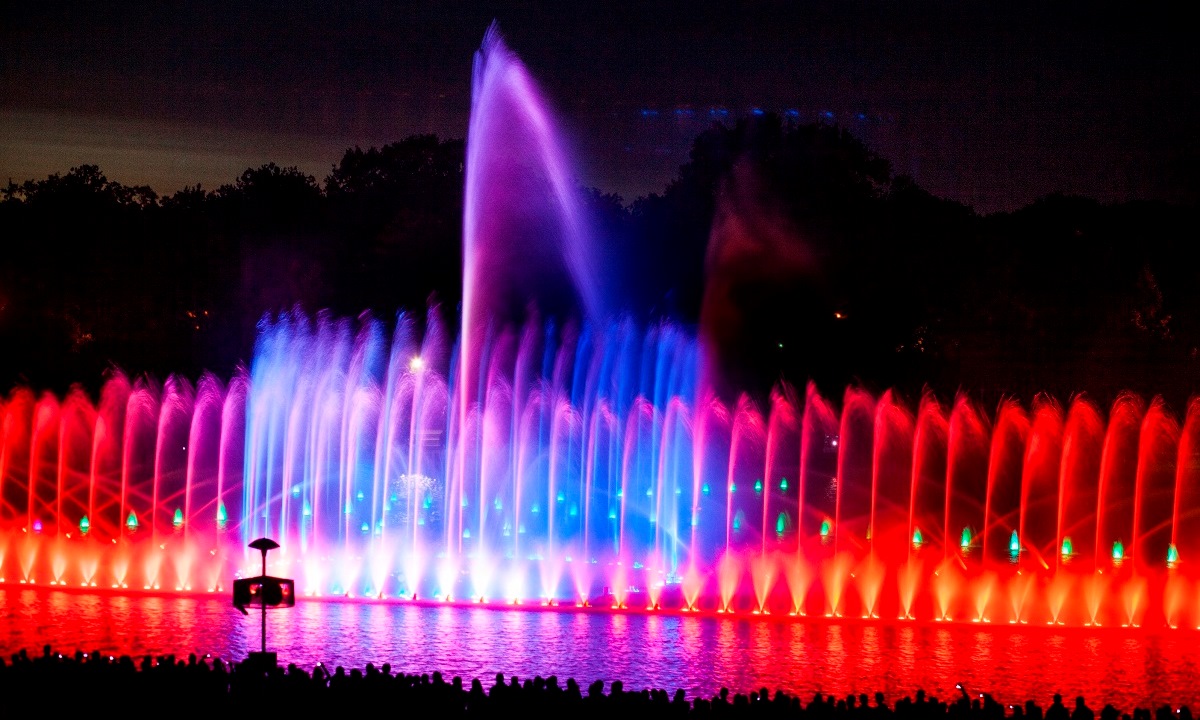 Wrocławska Fontanna Multimedialna – jedna z największych fontann w Europie. Na zielonej Pergoli, na której jest zainstalowana, w każdy weekend lata gromadzi szereg widzów zauroczonych grą świateł, muzyką i laserowymi pokazami.
Wrocław's Multimedia Fountain – one of the biggest fountains in Europe. At the green pergola, where it is located, on every summer weekend it attracts huge crowd impressed with the show of water, lights, sound and laser effects.
---
9.

Centrum Poznawcze - jest miejscem, w którym splata się historia i innowacje przyszłości. Ta niezwykła edukacyjna przestrzeń przedstawia zwiedzającym historię Hali Stulecia, genezę jej powstania i przemian na przestrzeni lat, wprowadzając jednocześnie w świat architektonicznych projektów jutra. Dotykowe ekrany i mapy, interaktywna podłoga, makiety budowli, ponad 600 zdjęć i różnorodnych wizualizacji, interaktywne gry i zabawy nie tylko dla najmłodszych, to wszystko prezentowane jest w klimatycznie zaaranżowanych wnętrzach, przy użyciu najwyższej jakości sprzętu audiowizualnego.
The Discovery Center - is a place where the history intertwines with innovations of the future. This unique educational space presents visitors with the history of the Centennial Hall, genesis of its origin and historical transformations, at the same time introducing them to the world of architectural projects of tomorrow. Touch screens and maps, interactive floor, models of the facilities, more than 600 photographs and various visualizations, interactive games and displays for visitors at different ages are presented in the interiors which are stylishly decorated and equipped with the top quality audiovisual equipment.
ul. Wystawowa 1, 51-618 Wrocław
tel. 71 347 50 47, 71 347 51 51
email: rezerwacja@centrumpoznawcze.pl
www.centrumpoznawcze.pl
---
10.

ZOO – najstarszy i największy (pod względem liczby wystawianych zwierząt) ogród zoologiczny w Polsce. Pokazy karmienia zwierząt gromadzą rzesze publiczności.
ZOO – the oldest and biggest (according to number of species) zoological garden in Poland. Animal's feeding attracts many people from the youngest to the oldest.
---
11.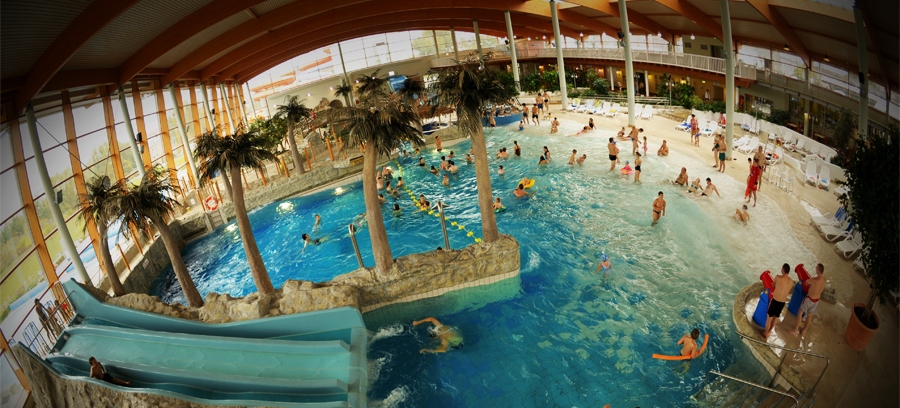 Aquapark Wrocław – największy park wodny w Polsce, z częścią halową i odkrytą, m.in. ze zjeżdżalniami, basenem solankowym, saunarium i leniwą rzeką.
Aquapark Wrocław – the biggest water park in Poland, with both outdoor and indoor areas, includes among other: slides, sauna center, brine pool and the lazy river.
---
12.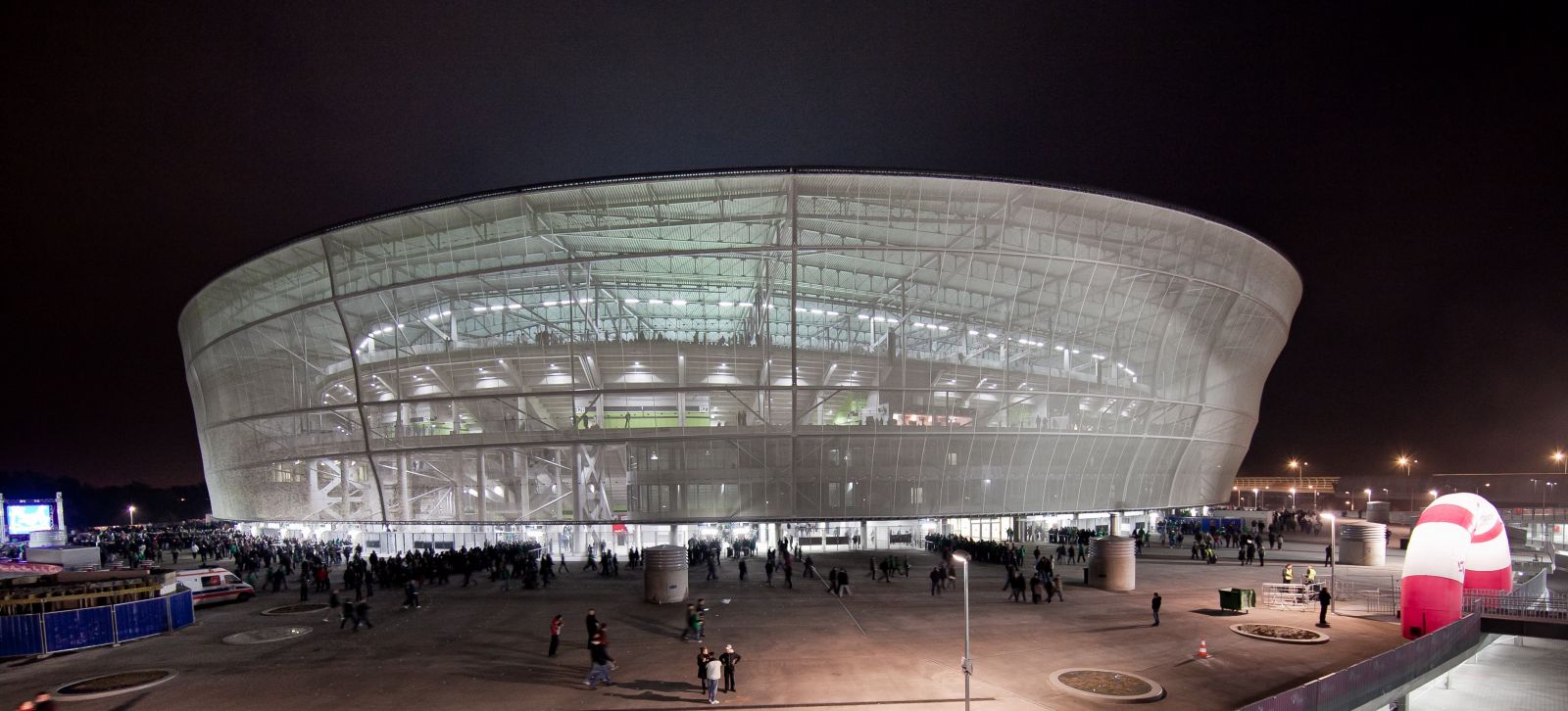 Stadion Wrocław – jeden z trzech nowych stadionów powstałych w Polsce przed EURO 2012. Ma charakterystyczny, rozpoznawalny kształt lampionu, który wpisał się w panoramę miasta. Mieści 42 tysiące widzów. Na nim grają zdobywcy tytułu Mistrza Polski 2011/12, piłkarze WKS Śląska Wrocław. Elewację tworzy materiał, który wieczorem jest podświetlany na różne kolory.
Wrocław Stadium – one of three newly constructed stadiums in Poland for EURO 2012. Its characteristic shape of Chinese lantern fits perfectly the city's panorama. With capacity of 42 000 spectators, it serves as home for WKS Śląsk Wrocław – the 2011/12 Polish Champions. In the evenings it is illuminated with various colors.
---
13.

Park Szczytnicki – największy park w mieście, którego główną atrakcją jest Ogród Japoński, czyli kawałek Dalekiego Wschodu we Wrocławiu.
Szczytnicki Park – the biggest recreational area in town, with the Japanese Garden as main attraction. Sample of the Far East in Wrocław.
---
14.

Wrocławskie krasnoludki – najmniejsi mieszkańcy miasta. Często aby ich dostrzec, trzeba uważnie wpatrywać się w chodnik /kryją się np. przy schodkach/, inne przesiadują na latarniach. W IT są mapki, na których zaznaczono najpopularniejsze miejsca ich pobytu :)
Wrocław's Gnomes – the shortest inhabitants of Wrocław. To notice them, one often needs to put attention into sidewalks /they hide sometimes by the stairs/, others may hang at street lamps. At tourist Info-points one can get a map, where their favorite locations are marked :)
---
15.

Panoramę miasta można podziwiać z punktów widokowych, które znajdują się w samym jego centrum: na wieży katedry św. Jana Chrzciciela, na Wieży Matematycznej w gmachu głównym Uniwersytetu, na wieży katedry św. Marii Magdaleny oraz na wieży kościoła św. Elżbiety tuż obok Rynku.
Niezapomnianych wrażeń dostarczają również rejsy po Odrze statkami kursującymi między Starym Miastem a ZOO i Wyspą Opatowicką czy przejażdżka zabytkowym tramwajem z przystanku przy Operze do ZOO i Hali Stulecia. Do dyspozycji turystów i mieszkańców są także rowery z miejskiej sieci wypożyczalni rowerowej.
Panorama of the city might be seen from many vantage points located in the city center: one of the towers of St. John the Baptist cathedral, Mathematical Tower at the University's of Wrocław main building, tower of the St. Mary Magdalene cathedral and the tower of St. Elisabeth church just by the Market Square.
Unforgettable feelings are ensured by the Odra River cruises with boats travelling between the Old Town, Zoo and Opatowicka Island. For sightseeing tourists may also use bikes from the city's rental.